When you receive triceratops eggs you can train the little lizards as battlemounts as opposed to plough-beasts. These are the counterpart of the Earthshaker Plow Team.
Description
Helps in raids (use in battle).
Acquisition
This treasure requires the completion of a chain of events, starting with the finding of a Triceratops Skeleton in your fields.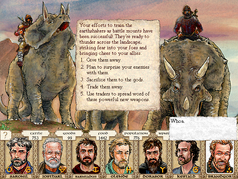 Note:  On the PC, the Triceratops Warmounts won't appear on your clan's Treasure list, but you can choose to use them as any other item from the combat menu.
Duration
The warmounts have a finite lifespan.  It appears they only live for 10 years or so. Similar to other combat treasures, they may also be killed in battle.
Ad blocker interference detected!
Wikia is a free-to-use site that makes money from advertising. We have a modified experience for viewers using ad blockers

Wikia is not accessible if you've made further modifications. Remove the custom ad blocker rule(s) and the page will load as expected.