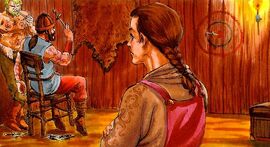 The Bandit-Reforming Clan
is one of your neighbors in
Dragon Pass
.
Description
Although giving second chances to bandits and outlaws is not unheard of, it isn't a widespread practice among Orlanthi clans. The bandit-reforming clan isn't well-loved as a result, but they do have manpower during raids.
In a Tribe
This clan can offer little, but it also doesn't expect much from the tribe, and it is proficient in battle...
Events
If the bandit-reforming clan is in your tribe, you are likely to see the following events:
Ad blocker interference detected!
Wikia is a free-to-use site that makes money from advertising. We have a modified experience for viewers using ad blockers

Wikia is not accessible if you've made further modifications. Remove the custom ad blocker rule(s) and the page will load as expected.